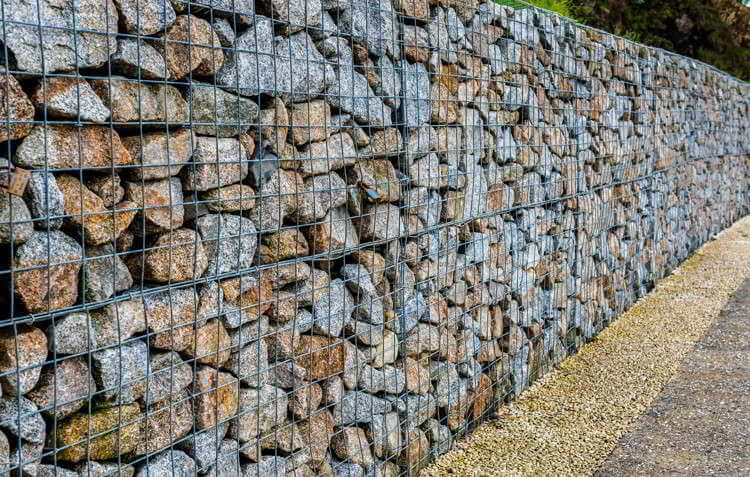 How can Gabion Stone Improve Your Next Project
You may have heard of gabions for construction projects. Or, at the very least, you've seen gabions along the sides of river banks and mountains. But a lesser-known use for gabion is in landscape design.
From building pillars, ponds, or walls, you can use various aggregates to fill gabions and create the solution you've been looking for to enhance your backyard landscape and outdoor living space.
Discover how gabion stone works, what their uses are, and how they can contribute to your project.
What Is Gabion Stone?
Gabion stone is a type of crushed stone, such as limestone, sourced from local stone quarries and used as filler for gabion boxes, baskets, and cages. This crushed stone comes in various sizes depending on its use.
The most popular size is 200-100mm stone. But you can also find 150-75mm and 80-50mm sizes for various landscape projects.
A gabion is a welded mesh or a woven-wire mesh cage, basket, cylinder, or box that is made from coated, galvanized or stainless steel.
Welded-mesh gabions are more rigid than woven-mesh gabions and are well suited for architectural projects, such as gabion cladding and free-standing walls. Woven-wire mesh baskets are more flexible and are preferred for large retaining walls and civil engineering projects.
Gabion baskets are typically filled with rocks, concrete, and sometimes other aggregates such as sand and soil.  Gabion baskets are often used in road building, landscaping, erosion prevention, civil engineering, and even military uses.
Gabions are often seen along waterways, around construction sites, and along the sides of underpasses. And more recently, they have made a comeback in landscape design for their functional and aesthetic uses.
Gabions used for purely aesthetic purposes can be filled with weatherproof materials that won't slip through the cage openings, such as brick, river rock, shells, glass, and logs.
Along with the various sizes and types of gabion fillers used, there are also various sizes of gabion baskets to suit specific project needs, whether for civil engineering or backyard landscaping.
What Is It Typically Used For?
Gabion stone is often used for ground stabilization. Gabions stabilize slopes and prevent erosion. Caged riprap is used for erosion control. And cylindrical metal gabions are often used in dam and foundation construction.
For residential applications, gabion stone is most often used for retaining walls. Due to their weight and flexibility, they do not require a foundation.
Here are the most common uses for gabions:
Mass/gravity retaining walls
Reinforced soil walls
Terrace walls
Channel lining
River training structures
Gabion weirs
Dam embankment protection
Roadway culverts
Low-level crossings
Longitudinal river structures
Biofilters for sewage plants
Hydrochambers for water storage
Rockfall mesh netting
River diversion structures
Mine primary crusher walls
Architectural applications
Bridge abutment protection
Sound barriers
River mattress baskets
Unique Uses To Elevate Your Landscape
Gabion stone is a unique landscape feature that ties in the natural surroundings while adding texture and interest to your outdoor living space.
Artistic gabions can act as beautiful accent walls in your landscape and outdoor living space.
Here are some ideas for using gabion in your backyard landscape:
Back-lit gabion filled with coloured glass
Gabion wall filled with shells—and with shelves to display potted plants, candles, or lanterns
Capped seating walls
Bases for planters
Bases for outdoor furniture
Fireplace surrounds
Water feature surrounds
Pillars
Ponds
Pros And Cons Of Gabion Stone
Pros
Whether used for functional purposes, aesthetic purposes, or both, gabions are unique, natural features that work well with the landscape and add visual appeal.
Easy & Cost-Effective Installation
Since gabions don't require foundations, installation of gabion stone is relatively easy and cost-effective.
The coated steel on gabions is resistant to corrosion. And the materials used as filler in gabion cages are durable and weather-resistant. So gabions can be permanent fixtures that last a long time.
Flexible gabions can settle in place without losing function and efficiency. This flexibility makes gabions especially useful for installations on unstable ground and in moving water.
Gabions are strong enough to withstand the force of floods, torrential force, and pressure from the earth and ice.
Gabions are permeable, allowing water to drain through easily and preventing the need for drainage pipe installation.
Eco-friendly gabions are filled with recycled materials, such as recycled concrete and rock from construction projects. And the gaps in the gabion fillers allow plants to grow over time, so gabions can support natural vegetation.
Cons
The unique style of gabions may not suit every home's outdoor landscape design and décor.
Since gabions are bulky and take up a large amount of space when acting as a load-bearing structure (e.g., retaining wall), they are not well suited for small backyard spaces.
When choosing materials to fill gabion cages, keep in mind that the materials used should be no smaller than 3 inches in diameter. Otherwise, the filler can fall out of the cage grid.
Potential Home for Insects & Animals
Insects and small animals might find their way into the gaps of the filler material and make the gabion their new home.
How to make a Gabion Basket
Gabion baskets are versatile and can be used in many different ways. You can use them as a mere accessory to your patio, or you can make use of them and shape them as stairways to your garden, a maze-like pathway or a wall to divide your patio from your garden, for example. There are many more uses to it - you just have to be creative! Who is stopping you from creating a firepit from it, a planter or even a sculpture?
You can create the basket in any shape or size you might need. You can buy premade mesh baskets, but it might be more fun and suit you better if you make them on your own.
Here's what you will need:
Mesh Roll or Sheets
Rebar Ties
Connectors/Spiral Wires
Pliers
Rust Kill Solution
Gloves
Rocks
Time
Steps for making a Gabion Basket
Mark out the size needed
Cut the mesh to size
Bend the sides up to start the basket
Cut out some ends for the basket and trim off the sharp edges
Use the ties to connect the ends and form a basket
If you can, add supporting braces on the inside
For saving some money, consider putting blocks of bricks at the centre and then desired rocks around it.
Conclusion
If you're looking for a unique, natural, and visually-appealing feature to add to your backyard landscape, consider gabions. You can use various aggregates to fill gabions and get the desired look you're after. And the installation will be a breeze if you source your aggregates from local stone quarries.
Contact your local stone suppliers for help finding the right aggregates for your unique gabion landscaping project needs.