TRP Concrete Ready Mix
About Us
Mission: TRP Ready Mix aims to deliver superior ready mix concrete in an efficient and effective manner while providing optimal customer value.
TRP Ready Mix has been serving quality concrete to the United Counties of Stormont, Dundas & Glengarry along with Prescott & Russell United Counties for over 30 years.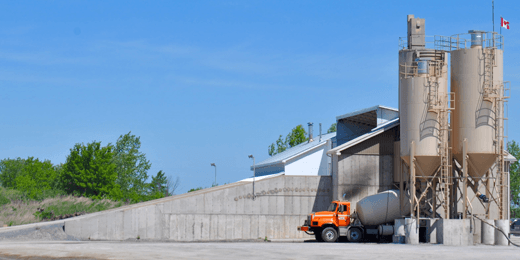 The organization has strategically placed plants in Winchester and St. Albert, Ontario in order to serve customer needs in a timely and efficient manner. Both plants are equipped with computerized batching equipment that allow for the production and delivery of any type of concrete that is requested. With a fleet of over 20 trucks, concrete can be delivered in a timely fashion to meet the strict demands of customers.
Along with its fleet of trucks, TRP Ready Mix also has a Stone Slinger and a truck-mounted concrete pump. The Stone Slinging service allows for the delivery of sand or aggregates into tight hard to reach places such as foundations or steep slopes. Delivering aggregates with the Stone Slinger allows for a great reduction in labor time and the need for other equipment rentals, saving the customer time and money. The concrete pump permits concrete to be poured into places that mixer trucks can not reach.
No project is too large or too small. Work varies from small residential projects to large MTO contracts.
Want to learn more about us? Visit the TRP Ready Mix website.
Contact Us
Moose Creek Head Office
7 Labrosse Street, P.O. Box 220
Moose Creek, Ontario, K0C 1W0
Phone: 613-538-2271
Fax: 613-538-2786
St. Albert Plant
Phone: 613-987-5377
Winchester Plant
Phone: 613-774-5277