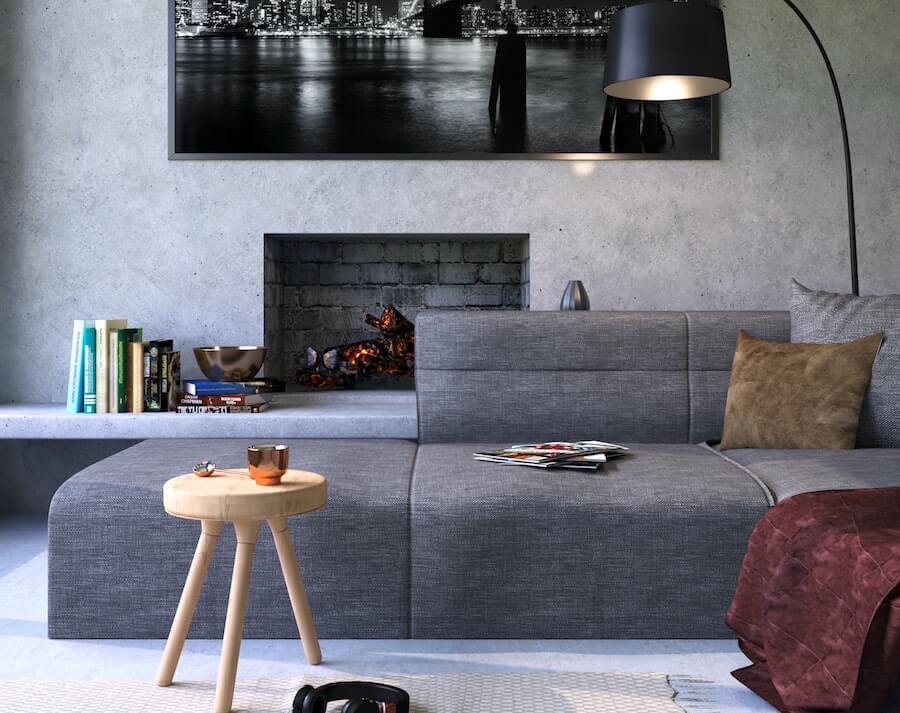 How to Incorporate Concrete in Your Home
When looking to modernize your home with updates and renovations, why not consider the increasingly popular, modern, and versatile concrete?
Not only is concrete incredibly durable and long-lasting, but it can help increase the value of your home when used correctly.
Still not convinced?  We'll explain the benefits of using concrete for your next home renovation project, along with the different ways you can incorporate it into your home.
Benefits of Using Concrete for Your Home Projects
Durable & Long-Lasting
One of the most significant benefits of concrete is its durability. Not only is concrete built to last, but it actually gains strength over time.
In fact, the lifespan of concrete is around 2 to three times longer than most other building materials, making it a great choice if you are looking for something that will last for many years.
Trendy and Modern
Concrete has long been used solely as the foundation of a home, only to be covered up and never seen again. But in many modern homes, concrete is now becoming the star of the show and is used to create a sleek, modern, minimalist, industrial look.
Low Maintenance
Concrete is an incredibly low maintenance building material. Not only is it resistant to water and heat, but stains as well, making it easy to maintain and clean.
Environmentally Friendly
While the environmental friendliness of concrete has been hotly debated due to the number of resources required to produce it, concrete can absorb and retain heat really well. You might be wondering, what does this mean, and how does it benefit my home? Because concrete is so great at absorbing and retaining heat, this helps to increase the energy efficiency of a building and cut down on HVAC costs.
Versatility
Concrete doesn't have to look unfinished and industrial. It's incredibly versatile and can be molded into any shape and pattern. For instance, for flooring, try concrete stamping for a stone or tiled look. Or even look into painting or staining concrete to play around with different designs and colours.
Improves Home Value
Renovations and modern design updates help make your home more attractive to buyers and will, therefore, dramatically boost your return on investment. So, if you are looking to make some modern upgrades to your home, consider using concrete.
Ways to Incorporate Concrete in Your Home
Kitchen Counters
Looking to upgrade your kitchen countertops but want a more, sleek, matte look rather than the glossy finish of marble or granite? Why not go with concrete? Concrete has the durability of marble and granite, but with more resilience and a minimalistic look. Plus, a concrete countertop is both heat and stain-resistant, making it resistant to whatever kitchen accidents are thrown at it.
Flooring
Concrete flooring isn't just for cold, unfinished basements. In fact, concrete flooring doesn't have to be the standard, smooth grey – unless that's the look you are going for. It can be modified to look exactly how you want, whether it's through stamping, paint, or stains.
The most common areas to try concrete flooring are in the kitchen, entryways, living areas, and hallways, but you can try it in any room you wish.
Fireplace
While concrete doesn't exactly scream warmth and comfort, a concrete fireplace is a great feature to have in your home. The concrete helps create a trendy, modern vibe, while the fireplace helps fill your home with warmth and creates a focal point in your living space.
Or, if you prefer a more traditional look, the concrete can be stamped to look like brick or stonework, or left solid but stained a different colour.
Stamped Concrete Driveway
Driveways don't always have to be asphalt. Concrete is another option that is actually more durable and low maintenance than asphalt.
If you're looking for something that stands out amongst your neighbours, try stamped concrete to create a stone or interlock effect.
Concrete Patio
When renovating your home, don't forget about the outside! A patio is a great way to create a relaxing oasis in your backyard come spring and summer. While interlock stones are the most popular patio option, stamped concrete can create a pretty similar effect, and can be painted, stained, and molded to create various patterns and effects.
Shower and Bathtub
Using concrete for your shower walls and floors not only means no stained grout to scrub but also helps create a modern, sleek and minimalistic focal point of your bathroom.
A bathtub, on the other hand, can be a tough one to pull off logistically speaking as the weight can be quite heavy, but if you have the manpower to make it work, the end result is pretty spectacular from a design standpoint. A concrete bathtub is incredibly cool, modern, and almost futuristic and is bound to be a total showstopper in your bathroom.
As you can see, when it comes to concrete, the opportunities – and benefits – are endless. From a custom fireplace to sleek flooring and kitchen counters, the sky is the limit for what you can achieve. So, when planning out your home renovation projects, concrete should always be top of mind.