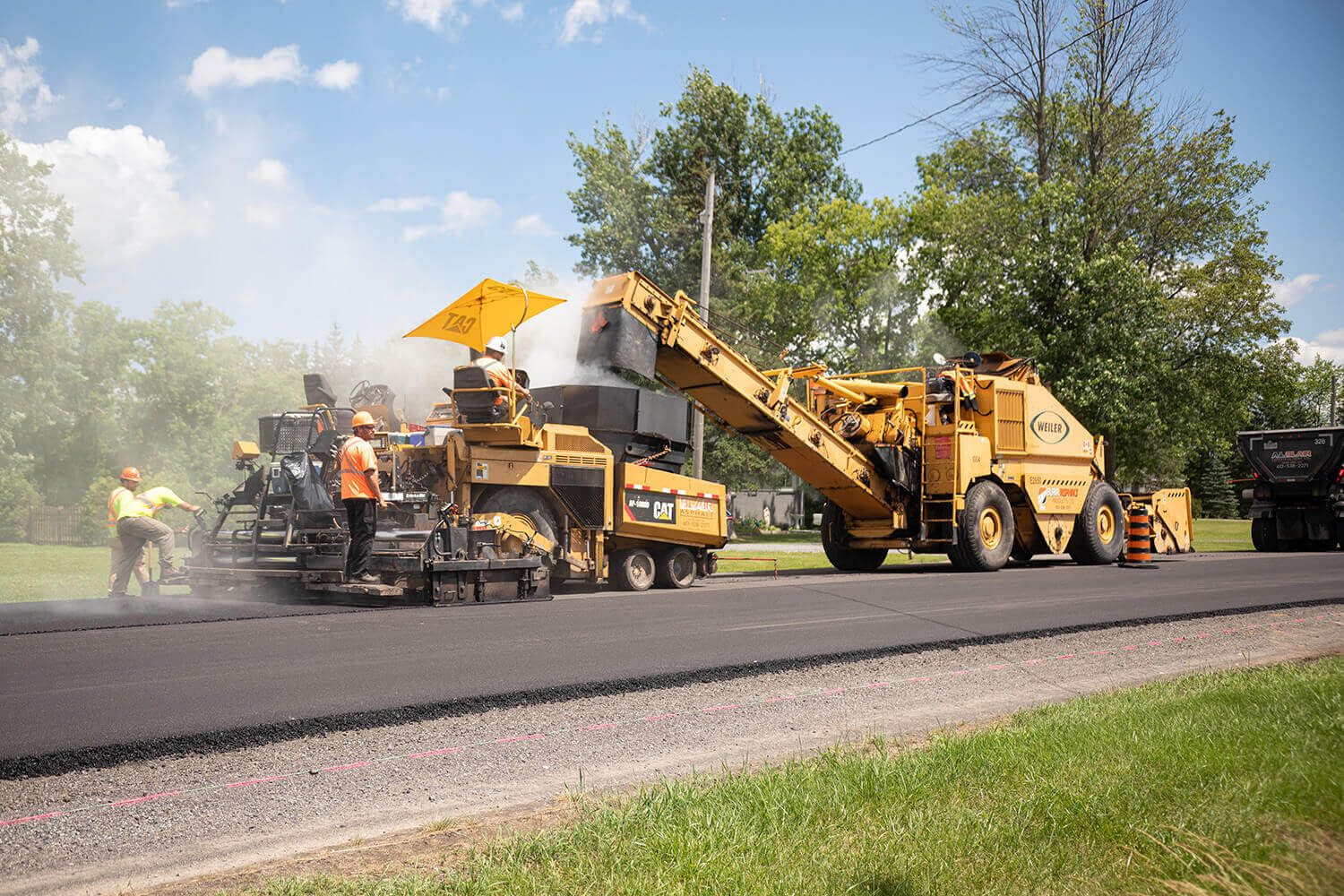 Current Trends in Road Construction
The face of road construction is consistently changing, driven by advancements in technology and a focus on sustainability. The emphasis today is on improving the quality of road infrastructure while minimizing environmental impact.
One current trend is the incorporation of recycled materials, like Recycled Asphalt Pavement (RAP) and Recycled Asphalt Shingles (RAS). These materials provide a cost-effective and environmentally friendly alternative to traditional road building materials.
Another prominent trend is the use of digital tools such as Building Information Modeling (BIM) and Geographic Information Systems (GIS). These systems improve efficiency and accuracy in project planning and execution. They also facilitate better collaboration between project teams and stakeholders.
Additionally, there's a growing interest in creating roads that serve multiple purposes. For instance, solar roads, which incorporate photovoltaic cells, are being tested as a means of generating electricity while providing a surface for travel.
Innovative Road Construction Techniques
Innovation is at the heart of the evolution of road construction techniques. Self-healing asphalt, for instance, incorporates a regenerative substance that enables the road surface to 'heal' small cracks and wear, thereby prolonging its lifespan and reducing maintenance costs.
Another innovative technique is the use of warm mix asphalt (WMA) instead of hot mix asphalt. WMA can be applied at lower temperatures, reducing fuel consumption and greenhouse gas emissions. It's also more workable in colder climates and extends the paving season, allowing road construction in conditions that would typically be challenging.
Geosynthetic materials are also being used in road construction to increase pavement life and reduce maintenance needs. These materials, which include geotextiles and geogrids, reinforce the road base and improve the stability of the road, particularly in areas with poor soil conditions.
Lastly, technologies such as drone surveys and 3D printing are being explored in road construction. Drone surveys can provide detailed topographical data for planning and monitoring road construction projects, while 3D printing holds the potential for creating complex road features quickly and accurately.
Role of Aggregates in Road Construction
Aggregates play a crucial role in road construction. They're used in virtually every phase of the process, from forming the road base to finishing the surface layer.
The use of the right aggregates in the right proportions is critical to the structural integrity of the road. For instance, larger aggregates are used to form the lower layers of the road, providing stability and strength. Smaller aggregates, often mixed with bitumen or asphalt, form the top layer, creating a smooth, durable surface for vehicles.
At A.L. Blair Construction, we understand the importance of high-quality aggregates in road construction. Our aggregates are carefully selected and processed to meet stringent quality standards, ensuring the longevity and performance of the roads we construct.
Environmental Considerations
As society becomes more aware of the need for environmental sustainability, the road construction industry is no exception. There's a strong push for eco-friendly practices in road construction, including the use of recycled materials, sustainable sourcing of aggregates, and energy-efficient construction techniques.
Moreover, careful planning and management are necessary to mitigate the environmental impact of road construction. This can include measures to control dust and noise during construction, proper disposal of construction waste, and steps to protect local wildlife and ecosystems.
Costs and Maintenance of Different Road Types
The cost and maintenance requirements of a road depend on several factors, including the type of road, the materials used, and the environmental conditions.
Asphalt roads, for instance, are typically less expensive to build than concrete roads but may require more frequent maintenance. Meanwhile, concrete roads have a higher upfront cost but are known for their long lifespan and minimal maintenance requirements.
Gravel roads are relatively inexpensive to construct, but they require regular grading and replenishment of the gravel, especially in areas with high rainfall that can lead to erosion. Roads incorporating innovative technologies like self-healing asphalt or geosynthetic materials may have higher initial costs, but these can be offset by longer lifespans and lower maintenance requirements.
Overall, the cost-effectiveness of different road types should not be evaluated based on construction costs alone. Maintenance costs, lifecycle duration, and the road's resilience to weather and traffic conditions are all crucial considerations.
Examples of Innovative Road Construction
Imagine a busy highway that experiences heavy traffic. Traditional asphalt, under such rigorous conditions, would wear out quickly, leading to frequent and disruptive maintenance. By using self-healing asphalt in this situation, small cracks and wear could be repaired automatically, reducing the need for maintenance and prolonging the road's lifespan.
In another scenario, consider a road construction project in a remote area with challenging terrain. Using traditional surveying methods could be time-consuming and potentially inaccurate. Instead, using drone technology could provide accurate topographical data, saving time and improving the quality of the road design.
A.L. Blair's Experience in Road Construction
At A.L. Blair Construction, we've spent decades honing our skills and understanding of road construction. We've seen trends come and go, and we've remained at the forefront of using innovative technologies and techniques. We understand that the roads we build are vital to our communities, and we take pride in our work.
Whether it's sourcing the best aggregates, implementing environmentally friendly practices, or using state-of-the-art technologies, we are committed to delivering quality and value. The road ahead is exciting, and we're prepared to meet it head-on.