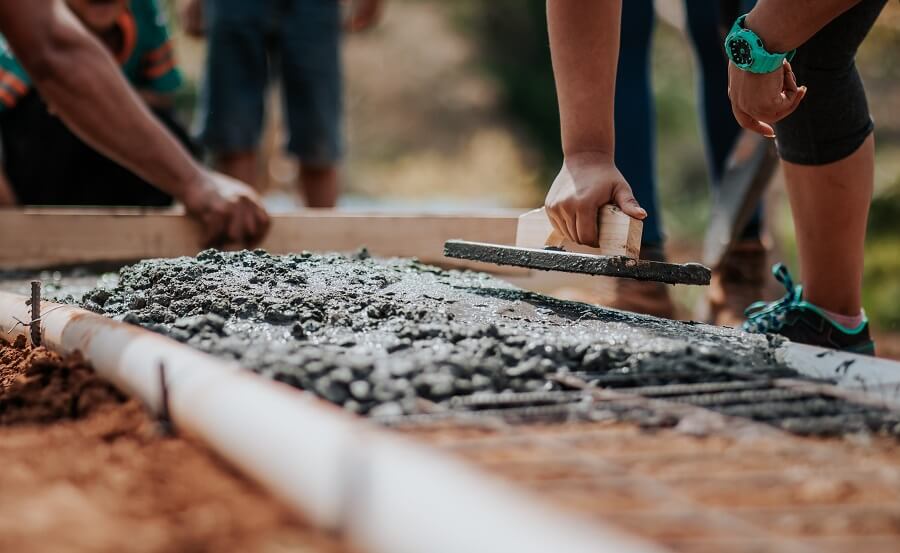 The Effect Aggregate Properties Have on Concrete
"Aggregate" is one of those concrete terms you either know or you don't. If you don't know what aggregate is, this article will explain it all to you.
Aggregates are a strengthening agent used as an inert filler in concrete. Their properties can have an impact on the concrete's durability, strength, and workability. Aggregates vary, and depending on their qualities, are used in various conditions and situations.
With the help of Al Blair Construction, eastern Ontario's go-to choice for aggregate, gravel, and concrete supply, keep reading to find out how exactly aggregate can impact concrete as well as the builder's flexibility and budget for their concrete project.
The Different Aggregate Properties
There different properties of aggregate, and they all affect the shape and texture of your final
product. Different aggregates include gravel, sand, limestone, crushed glass, topsoil, and basalts. There are also geo-synthetic aggregates (which are commonly used in civil engineering projects) to stabilize terrain.
But keep in mind that dealing with aggregates in and of themselves are still very complicated. While you should use this article as a tool to help you understand the way aggregates work, we highly recommend you seek help from a seasoned professional in concrete and aggregate supplier.
How Aggregate Properties Affect Concrete
With the different types of aggregate in mind, this is what you should consider while working with the different types of aggregate to ensure the best possible project.
Shape (Rounded, Flaky, Elongated)
Depending on the shape of your aggregate, you will determine how much moisture you need and how easy it is to work with your aggregate. Aggregates with an elongated shape require more water to produce a workable concrete, but it reduces concrete workability.
Smooth, textured, rounded aggregates require less water to create a workable concrete. Angular aggregates require more cement to maintain the same water-cement ratio.
Mixture Texture
Aggregate texture should always be considered, especially when knowing the final finish you're looking to achieve for your concrete project. Aggregate can meld into concrete so that no shape or detailing is formed, but other types provide a different type of texture. Avoid flaky and elongated aggregates in a concrete mixture, as they can adversely affect concrete and are difficult to compact. These factors affect the workability in concrete.
Surface Texture
The surface texture of aggregate can be either smooth or rough. A smooth surface is more flexible for workability, but opting for a rougher surface can create more strength in the final product, as it forms a stronger bond between the paste and the aggregate.
Grading Or Size Distribution
Grading aggregate refers to analyzing the particle-size distribution in the mixture. These properties are specified, as they affect the amount of aggregate used while measuring cement and water requirements, which determines the overall workability, effective pumping, and durability of concrete.
Moisture Content & Absorption
When using your aggregate mixture to create your concrete, accounting for moisture is crucial. If the moisture content is greater than the absorption, that surface water increases the water-to-cement ratio and affects strength and durability. This is a positive moisture content. Negative moisture content has considerably less moisture and allows the aggregate to air dry to some degree, absorbing from the PCC (plain cement concrete). This could cause it to crack.
Density
How do you know that you've achieved proper aggregate density? By measuring. If you don't know how to do this or need tips, consult a company specializing in concrete such as Al Blair Construction. Otherwise, this is what density weighing should look like when it comes to measuring aggregates:
Pour water into your metal measure and take note of its volume.

Thoroughly mix your aggregate and fill your measure about one-third full, then tamp it 25 times using a tamping bar.

Add another layer of one-third volume of aggregate in the same measure and stroke it 25 more times with the tamping bar.

Finally fill aggregate in the metal measure to over-flowing and tamp it 25 times, then remove the surplus aggregate.

Determine the weight of the aggregate in the measure in kg. Appropriate aggregate weight should measure from 1200-1750 kg/m3 (75-110 lb/ft3).
Quality
Whatever your aggregate of choice, ensure that you choose strong, hard, dense and durable aggregates for best results. Your aggregates should also be clear and free from veins and adherent coating, and free from harmful amounts of substances. Don't forget to avoid flaky and elongated pieces in your aggregate mass, as they should never be present.
For you to have a successful project, it is crucial for your aggregate mixture to be optimal in terms of quality, density, moisture, texture, shape, and grade. Though this article is meant to help you understand the effort that goes behind creating an ideal concrete mixture for a flawless finish, we highly recommend you seek help from a professional supplier to ensure that your concrete mixture will create a structure you can feel secure with and be proud of.