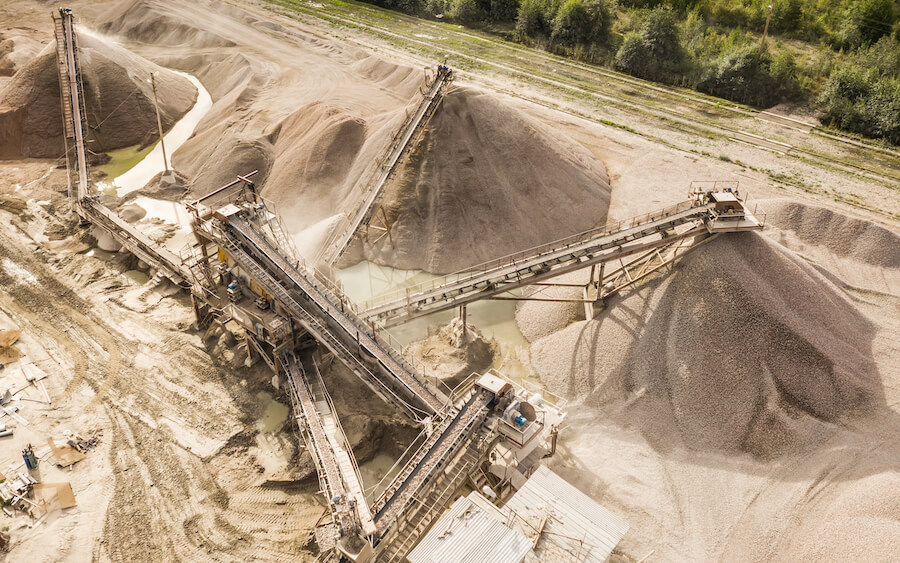 Everything You Need To Know Before Your Next Project
Projections show that the global aggregates market will reach a value of $671.1 billion by 2025.
There are many types of aggregates on the market, each with different own advantages and disadvantages. One of the most useful and versatile types is stone dust.
But what is stone dust? And why is it useful? Keep reading to find out.
Stone Dust Explained
Stone dust is a product that causes a bit of confusion as, despite the name, it doesn't look like stone or dust. It also goes by a few other names such as quarry dust, grit, and decomposed granite.
A special screen is used to collect large pieces of crushed stone on top, and let the dust fall through. These stones are given a grade depending on the size, with the dust being the smallest grade (#10).
Stone Dust Properties
Hardscaping with stone dust is made possible due to the properties of the product. These properties include:
Flat and smooth once laid out
Low cost in comparison with similar products
Non-porous
Varying in grades, types, and colours
Different Types
Stone dust is a direct byproduct of crushing stones, so the types available vary along with the types of stones crushed. Naturally, these different types have varying properties and appearances.
Two of the most common types are limestone and granite, as they are both very widely used.
Types also vary in terms of texture. Crusher run (also known as processed gravel) is more coarse than most other types, meaning it drains better and compacts well. This gives a more stable base than can be achieved with a more fine type of stone dust.
Benefits
The fine nature of stone dust makes it perfect for creating level surfaces. If you are putting down pavers for a path or patio, stone dust will help you keep the whole thing flat and level.
When used as filler between paving stones, the non-porous nature of stone dust will prevent any water from seeping below the pavers, even in heavy rainfall. This means less damage in the long term.
Another advantage when used between pavers is that it will stop weeds from growing through, keeping your paved area tidy and requiring less maintenance.
The consistency of stone dust also prevents shifting after it has been laid, so you don't have to worry about your paved area becoming uneven as time passes.
Stone Dust Uses
As described above, one of the most common uses of stone dust is for paved areas, giving a level area that will stand the tests of time. This also applies to driveways, giving a level surface that can support the weight of vehicles.
Stone dust is also used for agricultural purposes. When combined with soil, it can increase fertility, helping plants to grow.
In areas that have been farmed intensively or areas with tropical soil, there can often be issues with demineralisation. Adding stone dust to the soil here can help resolve this problem.
The stone dust will essentially restore life to the soil, helping support plant life and improve the ecosystem.
Another use of stone dust is to fill potholes in concrete areas if needed.
Cost
When buying stone dust, the cost will depend on the type of stone, the amount you are purchasing, and the method of delivery.
You may be able to get stone dust as cheap as about $31 per cubic yard if you are collecting it yourself, but the price can easily be as high as $170 per cubic yard when having it delivered.
How Much Do You Need For Your Project?
Before starting your project, you'll want to know how much stone dust you need. Buy too little and your project will be delayed, buy too much and you'll have waste.
You can calculate the amount you need by using the following process:
Measure the area you need to cover (length, width, and depth in cm or inches)
Multiply these together to give the volume of the area
Divide this cubic inch volume by 46,656 for the volume in cubic yards, or the cubic cm value by 1,000,000 to give the volume in cubic meters
You can use an online calculator to assist with this, which will give the amount of stone dust you need in cubic meters and metric tons. You can also calculate this based on the amount of gravel you want to use if needed.
Patio Pavers: Stone Dust Vs. Sand – Which Is Better?
Contractors will sometimes use sand for construction projects rather than stone dust. Both sand and stone dust has various advantages, so the choice is usually a matter of preference for the individual.
One of the main differences between the two is that, unlike stone dust, sand is porous, which means water will drain out. During freeze and thaw cycles this is ideal as it will prevent any potential damage to the pavers.
The disadvantage of this, however, is that it doesn't offer much protection to the base layer. As stone dust is non-porous, heavy rainfall will have no effect on the base layer.
Sand has a fine texture so will usually create a smooth surface. With stone dust you have options in terms of the texture, so you can achieve a smoother surface, or opt for a more rough one if desired.
Generally, stone dust is cheaper than sand, so you can save money by going with stone dust. The bigger the project, the more you will save.
Sand is only available in one colour, but if you are going for a specific look you have various options when it comes to stone dust.
Finding Stone Dust
If you're doing a project and you need stone dust, A.L. Blair Construction has you covered. We have a range of specialty aggregate products available in various sizes.
If you have any questions about what we offer click here to get in contact with us today. We're always happy to help.