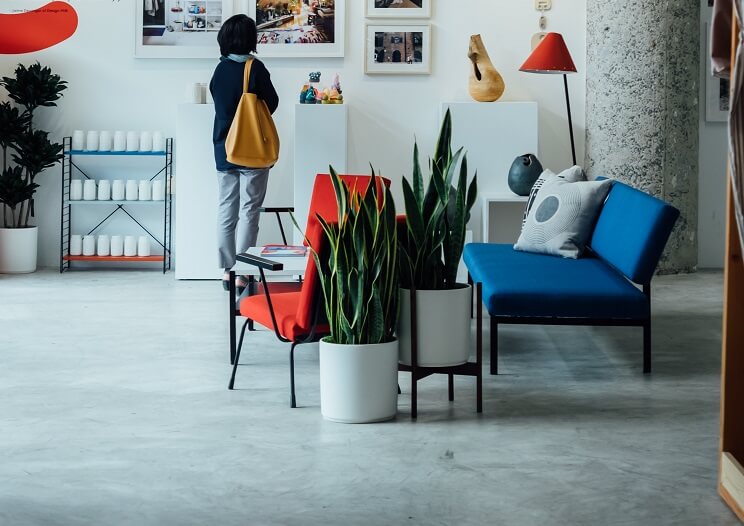 Why Concrete Flooring Should Be at the Top of Your Renovation Wish List
Concrete flooring has made a major comeback. Once associated with cold, industrial spaces, designers are flocking to this flooring option due to its versatility, beauty, and modern edginess. If that isn't enough, concrete flooring is one of the easiest floors to clean and a top option for those who are environmentally conscious.
With that being said, let's explore all of the benefits that concrete flooring can offer your home.
Why Choose Concrete Flooring?
Polished, etched, or stained, concrete flooring can be used in any room in your home. If you speak to any flooring installers, chances are they love to boast about it – and for good reason. The aesthetic of concrete goes without saying, but the true beauty in concrete flooring lies in the following benefits that it can offer you.
Low Maintenance
If you are looking for a low maintenance floor, concrete is one of the best. Other than sealing or waxing once or twice per year which protects the surface layer, you can simply use a neutral cleaning agent and mop the floor clean periodically. Utility pads can be used for particularly stubborn stains.
Environmentally Friendly
Since a concrete subfloor already exists beneath your existing flooring material, no new material is produced, making concrete an eco-friendly option. All it requires is the removal of the current flooring that sits over the existing concrete. The beauty in this is that there is virtually no carbon footprint or depletion of resources. Music to the feet of any environmentally conscious homeowner.
Versatility
Concrete is extremely versatile. Provided your surface is smooth and free from holes and imperfections such as bumps or defects, you can easily install any flooring surface over top of it at a later date. Let's face it, sometimes our tastes change and we're looking for something different. Concrete allow a tremendous amount of design freedom for the future state of your home.
Longevity
If sealed and properly maintained, concrete floors can last indefinitely. Concrete can survive high-traffic conditions for many decades, saving you a considerable amount of money and effort over replacing flooring every few years.
How to Incorporate Concrete Flooring in Your Home
Concrete flooring is tremendously flexible, durable, and versatile. It is not the drab industrial flooring that some may think of when picturing a concrete floor. When polished, concrete flooring can add a significant splash of elegance and modern design to your home. It pairs beautifully with virtually any design or other types of flooring that you may select in different spaces and is ideal for higher traffic areas.
Let's explore some of the ways you can incorporate concrete flooring into your home.
Industrial Design Aesthetic
Concrete is a hot commodity in all aspects of architecture and home design. It offers chic sophistication and a minimalistic look to spaces like lofts or homes which have a more modern design. They are ideal for providing the industrial look that many seek to achieve in large open spaces.
Kitchen Flooring
Kitchens are very high traffic areas, but concrete flooring can handle virtually anything life throws at them. Whether it's kids, spills, or dogs begging for food to be dropped on the floor, concrete is the perfect solution for busy families and/or those who prefer a clean and modern look.
Bathroom Floor
For the same reason that tile flooring is ideal for bathrooms, concrete flooring is easy to clean and can't be damaged by water.
Concrete Tiles in the Living Room
One of the biggest trends of late is the raw texture of the concrete tile. The beauty of concrete tiles is that the pattern is not repeated. Each tile is unique. It offers a natural, industrial and sleek look and comes in a variety of neutral colours.
Painted Concrete Floors
Stained or painted concrete options are virtually limitless. Colours can be applied to the surface with stains, dyes, epoxy coatings, tinted sealers, or with a combination of one or more of those methods. It can be coloured so naturally that it blends seamlessly with other elements in your room.
Incorporate it Into High Traffic Areas
As previously stated, concrete flooring is ideal for high traffic areas due to its low maintenance, durability and versatility. It is best suited to areas where less warmth is required.
Industrial Sophistication with Multiple Benefits
Concrete flooring lends an industrial sophistication with the added benefit of convenience. It is a great addition to any stylish household. With a variety of styles and substrates to choose from, concrete flooring is one of the most durable options out there. Combine this with the fact that it is cost effective, environmentally friendly, and ideal for those who suffer from allergies, it is a preferred choice over hardwood and carpeting. Your local concrete supplier can guide you through the various options available and walk you through different styles to give you a sense of how this flooring choice can work for you.