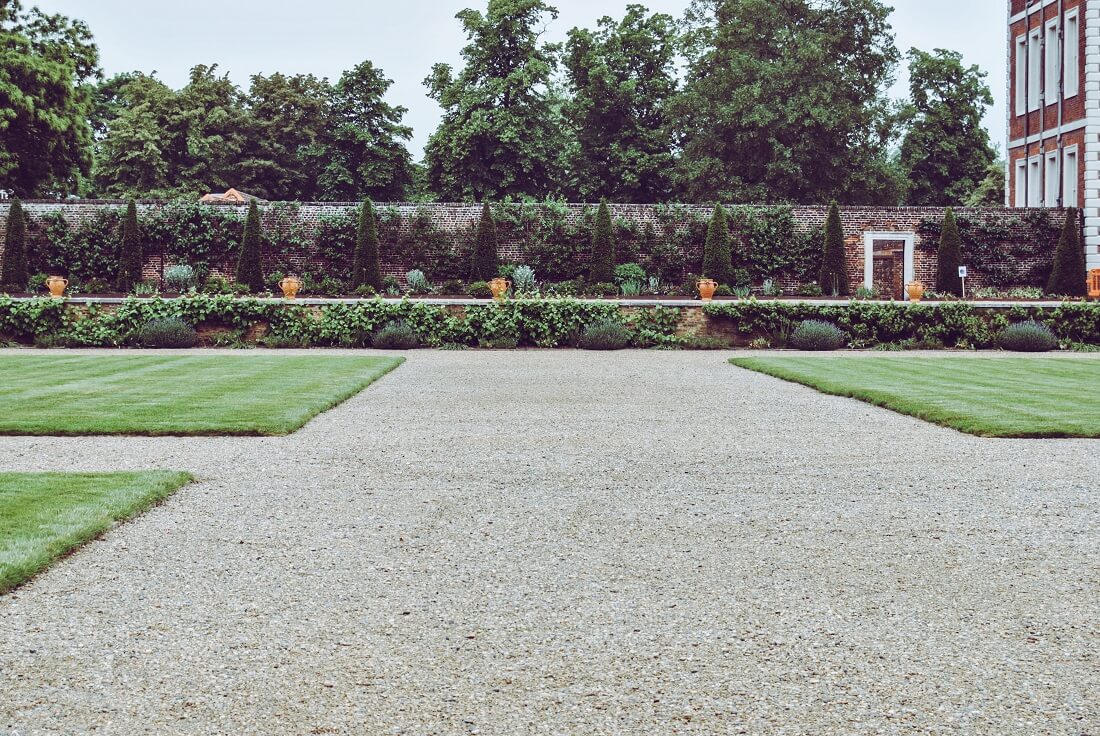 Inspiration and Tips on How to Landscape with Gravel
As one of the most versatile, durable materials, gravel allows for endless opportunities when it comes to your landscaping and other projects.
There are several different types of gravel for landscaping, as gravel comes in different shapes, sizes, and even colours.
Along with adding a low-maintenance, decorative appeal, gravel also provides drainage and protection for your landscaping.
For inspiration on creative uses for gravel, here are some popular gravel landscaping ideas.
Walkways & Driveways
Gravel is durable enough to withstand heavy foot and vehicle traffic. But unlike pavement, gravel adds colour, depth, and a rustic appeal to walkways and driveways. It is also more affordable than paving walkways and driveways.
Another benefit to using gravel is that it provides adequate drainage, so you don't have to worry about having a muddy driveway or walkway.
Consider using large stones along with gravel for a long-lasting pattern or design that can be easily updated whenever you wish. And don't be afraid to get creative with the shapes, textures, and colours of the gravel.
For walkways, you may want smooth, round gravel that is easier to walk on barefoot.
For driveways, use several layers of gravel, with larger (3- to 4-inch diameter) rocks on the bottom, medium (2- to 3-inch diameter) gravel to fill in, and small (3/8-inch diameter) gravel on the top layer. And be sure to tamp the gravel.
If you already have a paved driveway and walkway, use gravel along the edges to soften the appearance, prevent erosion, provide drainage, and protect the edges of the pavement from cracking.
If done well, you can add value to your home and boost curb appeal with an attractive gravel driveway and walkway.
Base for Patios
Gravel is ideal for use as a subbase or foundation to support patios. Gravel provides a stable bed for your top material while allowing for proper drainage underneath.
If you're wondering what gravel to use for a patio base, consider crushed base gravel.
As a base for patios, gravel also helps prevent common shifting damage that occurs during the freeze-thaw cycle. When using as a base, make sure to tamp the gravel before applying the top material.
Substitute for Mulch
Gravel is an excellent substitute for mulch in gardens because it helps prevent water evaporation from the soil. And unlike mulch, it won't move easily in the wind, so it will keep protecting plants in hot drought conditions even when it's windy.
Use all-purpose gravel that is 3/8 inch in diameter for gravel mulch landscaping. While smooth gravel is more decorative than rough gravel, rough, angular gravel tends to stay in place better.
Erosion and Drainage Control
Gravel absorbs excess water and is excellent for preventing land erosion in uneven areas of yards. So if your land is uneven, consider shoring up areas with gravel, such as the bottom of a hill or an embankment.
A crushed stone gravel drip edge helps prevent roof run-off water from splashing mud on the side of homes. And gravel will absorb water at the end of downspouts. The ideal gravel used for drip edges along foundations and retaining walls is usually ¾ inch to 1 ½ inch.
Gravel also provides excellent drainage in landscapes, garden beds, and at the bottom of flower pots.
Landscapes
Here are just a few uses for gravel in your garden landscape.
Zen Gardens
Zen gardens originate from Japan and feature a rock garden that is used as a peaceful place for meditation. The Zen rock garden is an enclosed space filled with sand or gravel surrounding larger rocks of unique shapes.
In a Zen garden, the sand or gravel represents the sea, and the larger rocks represent the massive rock or earth formations that stick out in the open water. The sand or gravel is then raked to create an appearance of moving water.
Pathways
A gravel pathway throughout your landscape is a simple way to enhance the look and feel of your garden. With the right colour of gravel for your path and some river rocks to line it, you can turn your landscape into a soothing escape.
Gravel pathways last a long time and are easy to update. For a clean, fresh look, simply add fresh gravel.
Garden Beds
Pea gravel, or gravel that is 3/8 inch in diameter, is used as a beautiful alternative to topsoil and mulch around plants and flowers in garden beds. Pea gravel can prevent weed growth, protect the roots of plants, prevent evaporation and soil erosion, and allow for proper drainage.
Pea gravel is smooth and round and comes in various natural colours to complement your flowers and garden features. Since pea gravel is small, you will need to maintain it by laying landscaping cloth on top of the soil before laying the gravel. Also, be sure to use larger stones around the garden beds to keep the pea gravel in place.
Gravel also makes for great edging in gardens. Gravel edging creates a tidy appearance in gardens while drawing attention to flowers, bushes, and trees in your landscape. Keep in mind that pea gravel can be easily misplaced, so consider using larger stones in high-traffic areas of your landscape as well.
Accents
Gravel can also create accents to features of your landscape, making them appear even more visually appealing.
Between Stepping Stones
Stepping stone walkways are an easy project that will enhance the look and function of your landscape. And laying complementing gravel between the stepping stones provides stability while making your walkway look even more beautiful.
Since gravel absorbs excess water and allows for proper drainage, it will prevent mud puddles from forming around your stepping stones.
Pea gravel is ideal for use in walkways. And larger stones, bricks, wooden planks, plastic edging, or flexible metal is used as a barrier to keep the gravel from scattering into the yard.
Fire Pits
Whether you already have a fire pit, or you plan to build one, gravel adds aesthetic appeal around fire pits while also making the surrounding area safer. With gravel surrounding your fire pit instead of grass, there is less risk of grass fires spreading from flying embers.
Water Features
Gravel is an excellent accent for a transition between the yard and a water feature. Whether your water feature is a fountain, birdbath, or waterfall, a gravel path leading you to the water feature will add a special, Zen-like quality to your backyard.
However you plan to use gravel in your landscape, remember to use landscaping cloth underneath for most applications to prevent weed growth.
When buying gravel for landscaping, make sure you order enough for your landscaping project. And go over the various landscape gravel types with your gravel suppliers so you can get the most out of your attractive new gravel landscape features.