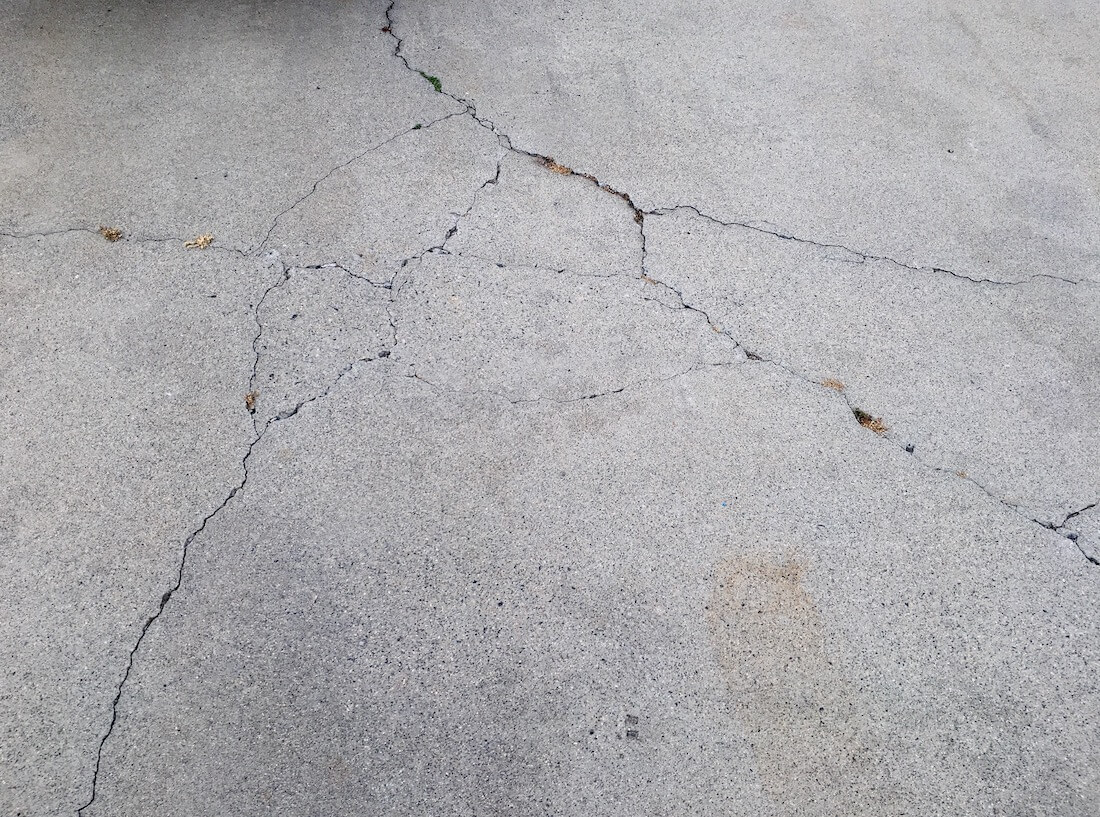 Signs it's Time to Replace or Repair Your Concrete
When cracks start to form in concrete, and it starts to show signs of aging, it raises the question of whether or not it is time to replace or repair it. In this article, we will dive into the different signs that demonstrate whether or not it is time to take care of it and which option is your best choice.
Signs of Deteriorating Concrete
There are more obvious signs that can indicate that your concrete is starting to lose stability, such as cracks. But wear and tear can come in many different forms and its symptoms can differ. Below, we list the main culprits, and symptoms and help you determine whether a repair or replacement is necessary to avoid bigger problems in the future.
Cracks
Cracks are a common issue that develops in both concrete and asphalt surfaces over time. Gas, oil, de-icing salt and other harmful substances penetrate the surface and worsen cracks. Freezing temperatures during the winter months can cause water to seep into the cracks and expand once frozen. Small cracks can potentially be repaired, but longer, wider or deeper cracks are signs of more serious damage and indicate that it's probably time to replace your driveway.
Sinking
Concrete that is sinking is a sign that it is time to replace your driveway. Sinking concrete is caused by draining issues. Water can sometimes sink through to the foundation of the concrete when water can't drain properly, causing the foundation to erode. If your concrete is older or in poor condition, replacing the surface would make more sense in this case as repairs aren't guaranteed to solve the problem.
Unevenness
An uneven or sloped driveway will often have water running down the middle of pooling water in one or more areas. This can weaken the driveway in the spots where water tends to gravitate and result in cracks and potholes. In many cases, repairs are sufficient, but some cases may require replacement depending on the conditions.
Visible Signs of Aging
When concrete has seen its day, it might be past its prime and you may start to experience all of the problems listed above. Years of exposure to harsh weather, UV rays, damaging chemicals and daily use cause the inevitable issue of aging. Repairs, in this case, are less effective and will usually require replacement.
Questions to Ask to Determine Whether Replacing or Repairing is Best
When determining if replacement or repair is best, there are some questions you can ask yourself to help answer this question. Below, we list some of the main questions to help you make your decision.
How Old is Your Existing Concrete?
Concrete will typically last 15-20 years. Knowing how old the surface is can help you determine which option might be best. Wear and tear over the years is normal, but untreated issues can lead to significant problems in the future.
How Impeding is The Crack?
Is the crack less than ¼ inch wide? If so, repair may be your best option. But leaving it can cause it to grow and water can get into the cracks and freeze. This will cause expansion. Look around the crack as well. Is it impeding anything else? Will it cause further damage to surrounding structures or landscaping?
Is Your Concrete A Foundation for a Different Kind of Flooring?
In many cases, concrete is the foundation for another type of flooring. And if this is the case, you need to be aware of which flooring best suits your needs. Concrete can get cold and damp and may not work well in a room.
Is Your Concrete Slab Sinking?
This is usually a condition that is easy to spot if you're dealing with concrete slab. When you start to see this, it can be caused by several things. Soil changing underneath the surface, poorly compacted soil and moisture changes.
When to Repair vs. Replace
If your surface is merely worn or chipped, repair is usually your best bet and a viable option. But determine if repair is merely a temporary fix to a bigger problem.
Read More: Concrete Project Planning Basics You Need to Know
If you're going to have to replace the surface shortly, you may just want to opt for replacement altogether to avoid having to perform multiple repairs before having to inevitably replace the surface. A.L. Blair can help answer many of these questions for you to determine the best course of action.