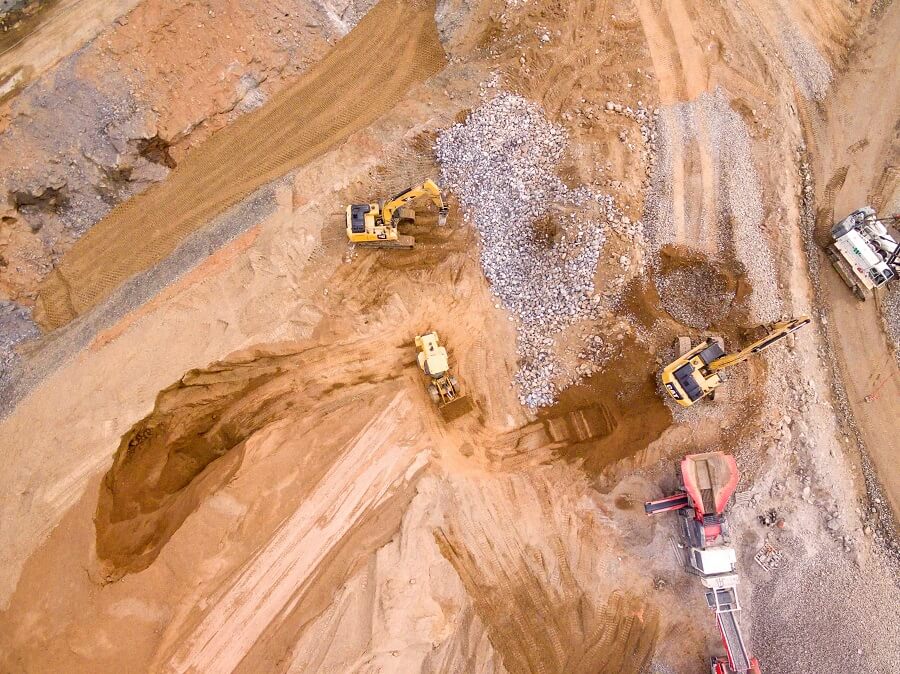 Tips for Finding the Right Crushed Stone Size for Your Next Construction Project
Crushed stone comes in all shapes and sizes. So, when planning your next construction project, you can't assume that one size fits all.
Instead, different sizes of crushed stone are better for some jobs than others. And understanding the key differences between the various types of stone available for construction will help with your next construction project, ensuring a higher-quality, longer-lasting finished product.
The Importance of Having The Right Size Of Crushed Stone
Some stone sizes are better than others when it comes to specific projects. For example, you wouldn't want to use large stones for a walkway because it would be too difficult to walk on.
Also, using large stones for projects that should use small stones will end up costing you more when ordering stone. Larger stones are heavier, so they are more expensive to transport. And they are less functional for some projects.
Types of Crushed Stone
Here are the many different varieties of crushed stone:
Crushed and Screened
This stone is the most basic form of crushed stone available. The stone is crushed down and screened to a specific size. And it is not cleaned or treated, so it may come with dust as well.
Washed Clean
Like crushed and screened stone, but also washed clean to remove dust and debris.
Gravel
Gravel is widely used for a variety of construction and landscaping projects. Gravel sizes are relatively small and are ideal for both functional and decorative uses.
Pea gravel is one of the most popular types of gravel for landscaping.
Quarry Process
Also known as Crusher Run or Dense Grade Aggregate, Quarry Process is a combination of stone dust and crushed stone aggregate of various sizes.
Riprap Stone
Riprap is one of the largest types of crushed stone, sometimes as large as 9 inches in diameter.
Stone Grits
Stone grits are fine particles produced from pulverizing stone. They are less than ¼ inch in size and are known as the smallest type of crushed stone.
Crushed Stone Sizes and Uses
Here's a look at the size of crushed stone grade that varies from small to large.
Small Crushed Stone (Less than ¼ Inch to ¼ Inch)
Small crushed stone is often used as both a decorative and functional surface layer—on top of a compacted base and sub-base layer—for many construction and landscaping projects, such as:
Walkways
Driveways
Patios
Parking lots
Water features
Planters
Tree circles
Medium Crushed Stone (¼ Inch to ¾ Inch)
Medium-sized crushed stone is ideal for creating a base layer on top of a sub-base layer of larger crushed stone. Medium stone settles into voids and provides a stable layer to support the surface, increasing the structural integrity of the foundation.
Medium crushed stone is also used as riprap along ponds and rivers to prevent shoreline erosion. It's also used to prevent people from walking toward dangerous areas with strong currents.
Landscape contractors will use medium stones for decorative features and in dry riverbeds.
Large Crushed Stone (1 Inch to More Than 2 ½ Inches)
Large chunks of crushed stone are best for filling sub-bases of driveways, roads, parking lots, building foundations, and airport runways. Large crushed stone provides a strong and reliable foundation quickly.
It is also commonly used for decorative landscape purposes, building retaining walls, and preventing water pooling and mud tracking on construction sites.
Mixed Crushed Stone
Mixed crushed stone combines multiple sizes of stone and is often used to build solid structural foundations for new buildings. It's also used in semi-permanent road and driveway surfaces, along with bike paths and walking trails.
Combining small crushed aggregate with stone dust fines creates a compact mix that can create a solid semi-permanent foundation or surface. The jagged pieces of the crushed stone fit together while the stone dust settles into the voids.
Quarry Process or Dense Grade Aggregate is an example of mixed crushed stone.
Choosing the Right Crushed Stone
To help you choose the right crushed stone, here's a look at the best stone for common construction and landscaping projects:
Base and Sub-Base Layers
Large, heavy stone can create a solid and structurally-sound base or sub-base. Quarry Process is often ideal for these types of projects since the combination stone and stone dust increases cohesion which reduces shifting.
Roads and Driveway Surfaces
Decorative gravel or crushed stone ranging between ¼ inch to 3/8 inch is ideal for use as surface layers on roads and driveways, creating a firm surface with structural integrity.
Paths and Walkways
For comfortable walking on paths and walkways, the recommended size for decorative gravel or crushed stone is between ¼ inch to 3/8 inch in size.
Patios
For loose-fill patios, consider decorative gravel or crushed stone ranging from ¼ inch to ¾ inch in size.
Mulch Alternative
Crushed stone between ¼ inch to ¾ inch works well as a mulch alternative in gardens and flower beds because it allows for proper drainage. It can also be used for drainage systems.
Edging Material
For edging along paths and walkways, or around trees as decorative tree circles, an ideal size for crushed stone is ¾ inch to 2 ½ inches.
Ballast
Railroad ballast often uses riprap stone that is 3 to 4 inches in diameter.
Erosion Control
Riprap up to 9 inches in size helps protect shorelines from erosion. Riprap can also be used to prevent erosion along slopes that are prone to landslides.
Backfill
Construction and utility backfill often use crushed stone that ranges from 1 inch to 2 ½ inches.
Traction
Stone grits are ideal for improving traction on pavers and other surfaces.
General Construction
For general uses on a job site, contractors often use crushed stone that is 1 inch to 2 ½ inches in size.
With so many sizes of crushed stone available, it's important to find the best type for your project needs to ensure a long-lasting, quality finished product.
Contact your local crushed stone suppliers to order the right stone for your next construction project.