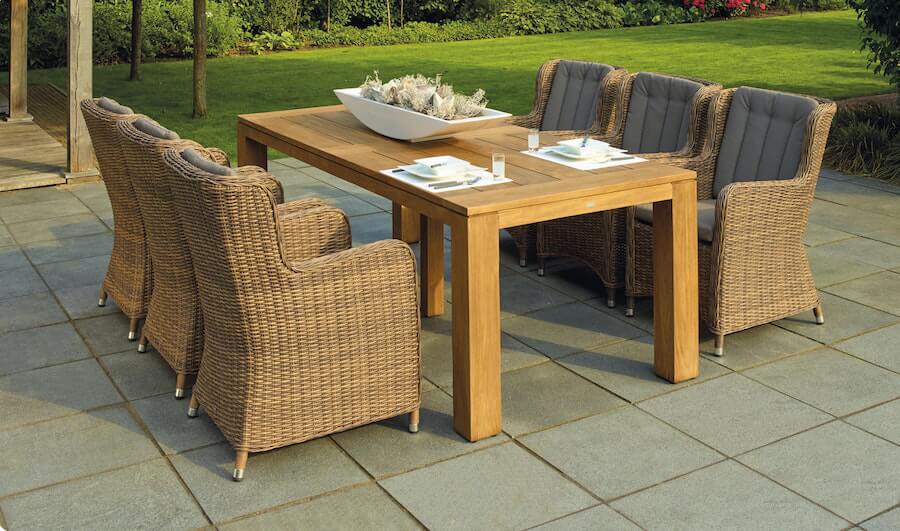 How to Choose the Right Material for Your Patio Upgrade
When you look at the pattern of bricks, rocks, or concrete shapes on a patio's surface, you are actually looking at pavers. This term refers to the series of objects placed over a patio or another hardscaping project.
While pavers elevate the patio's appearance, they are also important for the structure of the patio, as they must remain durable while withstanding weather conditions and the weight of objects or people. Though some may prefer to use poured concrete, pavers are more beneficial in a few ways: they face fewer cracks, are designed to allow water to spread throughout for its benefit, and are more comfortable to walk on. Plus, they usually form a visually appealing pattern, which most yard owners prefer over a blank slab.
But how do you choose the right material for your patio pavers? Read below to learn about two of the most common choices: sand and stone dust.
What are Patio Pavers?
Patio pavers are the small objects placed in a pattern on top of a patio. They essentially act as a protective layer for the base underneath so that you can walk and place furniture on your patio. A well-designed set of pavers will keep your patio sturdy and safe, while poorly-developed pavers will shift around and fall apart.
Properties of Sand in Hardscaping
Sand is formed naturally, and is found in plenty of environments around the world. Due to environmental forces, rocks experience weathering – breaking down upon impact of other surfaces – and erosion – having small rock bits transported away by water – ultimately leading to sand.
For hardscaping projects, sand makes a great paver base. However, not all kinds of sand are equally effective. Concrete sand is usually recommended for projects that require pavers. Otherwise, polymeric sand is often used to fill in joints between existing pavers as a final step within hardscaping projects. This type of sand is mixed with additives like silica, and these materials combine to lock pavers into place.
Benefits of Using Sand in Patio Pavers
Sand is an excellent choice for pavers for a few reasons. Unlike some other materials, sand won't wear down your pavers. Instead, it provides a perfect balance: it's compact and durable, but porous enough to drain moisture. Sand's texture is ideal for locking everything into place without leaving room for shifting.
Properties of Stone Dust in Hardscaping
Stone dust is the byproduct of an artificial substance called crushed stone. As the name suggests, stones are run through a crushing machine – as they are crushed, dust is created. Plenty of types of stone are used to make stone dust, with granite and limestone being two of the most common choices. The resulting dust is similar in appearance to sand, though usually coarser, and it has many uses in construction projects.
Is It Beneficial to Use Stone Dust in Patio Pavers?
Stone dust has a mixed reputation among hardscaping professionals. Some have found success incorporating this product into their pavers, but most end up facing several issues.
First, stone dust is particularly fine, making it difficult to remain compact enough to work effectively in pavers. Patios made with stone dust often shift – this happens because water gets trapped in stone dust when it is broken down from its initial stone format. Stone dust also creates pavers that drain poorly, which is particularly problematic in environments with plenty of rainfall.
Not all forms of stone dust are equally troublesome, however. A version of processed gravel is a popular choice for pavers. You may have heard of it under a few different names: crusher run, crush and run, quarry process, or dense grade aggregate. No matter what you call it, this product compacts and drains effectively, making it a solid alternative to sand.
Which is Better: Sand or Stone Dust?
Sand is ultimately a much safer option than stone dust for paving projects. However, this is not a black-or-white issue. You may choose to use stone dust if you have a large supply of it, or prefer the texture and appearance of it. Before settling on stone dust, just be aware that you may face shifting or other issues caused by the material's lack of durability.
Ultimately, patio pavers must be constructed carefully to ensure that your patio remains durable and visually appealing for a long time. One of the best choices you can make for your pavers' material is sand – it is compact, durable, and porous. Stone dust, on the other hand, is not as popular among builders, but is sometimes used as a substitute for sand.
If you have any questions about patio pavers or similar hardscaping projects, speak to a construction expert.