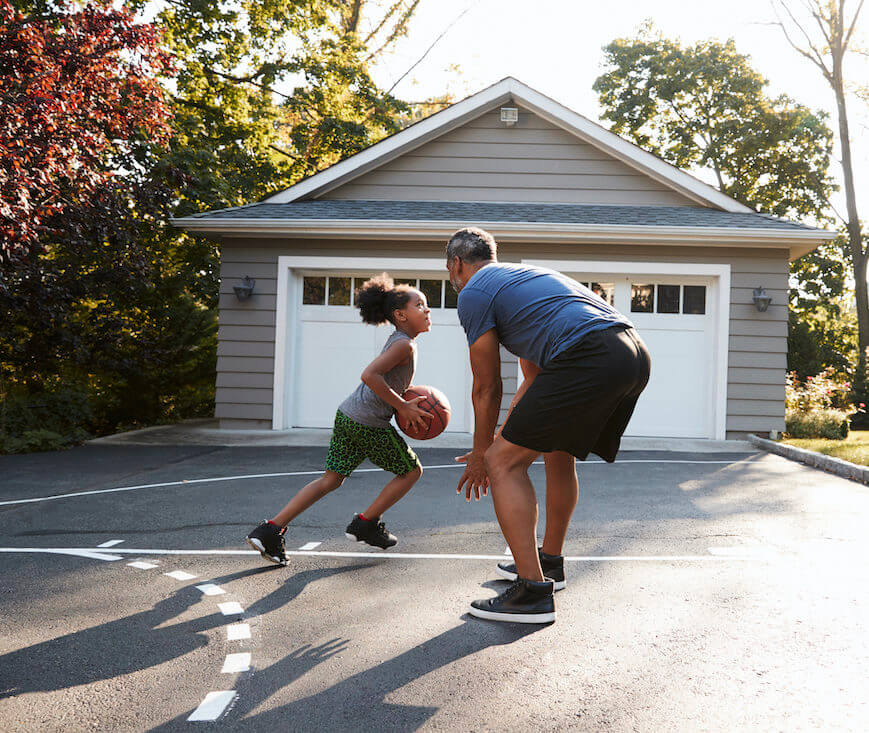 Driveway Surface Pros and Cons
When it comes to choosing a material to finish your driveway in, asphalt is usually the chosen option. But there are many different options available that can completely transform the look of both your driveway and your home.
In this article, we compare the different selections available and dig deeper into the pros and cons for each.
Different Driveway Materials to Consider and the Pros and Cons of Each
Driveways are often overlooked when it comes to the architectural elements of a house, yet, it is one of the first things people see when they visit your home. The selection you make for your driveway surface can have a massive impact on your curb appeal and the overall look of your home and landscaping. Whether you are looking for a more rugged or rustic option, or something sleek and smooth, the surface you choose for your driveway will play a vital role in your home's appearance.
Asphalt
Asphalt is one of the most budget-friendly and popular option available when it comes to paving your driveway. It provides a durable and long-lasting surface and little maintenance in the grand scheme of things. Some yearly sealing can go a long way, and the costs of resealing do add up over time, but a properly installed asphalt paved driveway should have a life-expectancy of approximately 30 years or so. Preparing the foundation correctly is of the utmost importance when it comes to asphalt driveway installation.
Concrete
Concrete is a versatile material which can be used to create pavers for the driveway. With this material, you can achieve a multitude of different looks to suit the style of your home.
The pros to this material is that it is durable, long-lasting and easy to maintain. Additionally, different patterns can be created via the stamped concrete process and stains and dyes can be applied to the surface to achieve different colours and looks. It is one of the more affordable options.  The con, however, is that it can crack over time.
Gravel
Gravel driveways are the cheapest option for driveways. They do provide a rustic or more rugged look and are often used for longer driveways on farms. The pros to this surface choice would be cost and its lifespan as gravel does not crack, sink or soften. It will simply move around on your driveway.
The cons, however, are that it is usually not a practical choice. It is messy, not aesthetically pleasing in most cases and makes shoveling or snow blower use difficult in the winter months.
Concrete Interlock
Interlock offers many options, with a wide variety of stone colours, sizes and materials. The least expensive consist of concrete pavers. Natural cobblestone pavers made from granite are the most costly. These can be cut into many shapes and assembled using various colours to make different patterns. They also offer the option of installation in various different patterns. They can be installed in a straight row, or diagonally to create angles and circles. The cons of this material would be that weeds can grow in between stones which may require some maintenance, as well as being an uneven surface, which can make shoveling a little more difficult in the winter months.
Which Should You Choose – Things to Consider
Local Climate
When it comes to choosing a driveway surface, climate is an important variable to consider. The weather that your surface will be withstanding will have an impact on the surface and how quickly it wears.
How Much Traffic It Will Get
If you live on a farm where traffic will be heavy, with tractors and trucks pulling in and out, gravel may be a better and more cost effective option for you. However, if your driveway is seeing standard amounts of household traffic, you will want to opt for a much more aesthetically pleasing option. Whether you select asphalt, concrete or interlocking, speak to your local supplier to determine which option will be best based on your own conditions.
Aesthetics
It is obvious that the look of asphalt, concrete or interlock will be the option selected over gravel most of the time. But each option offers its own aesthetic beauty and options. Whether you're looking to keep the look clean, or to add spice and personality to your home's driveway, there are many different looks and options to choose from.
Your Budget
Your budget is probably the first thing you will want to look at. It is important to look at all options and consider the pros and cons of each. In some cases, one surface may be far more durable than the other and be a better option, budget-wise, in the long run. In which cases, choosing a slightly more expensive option may be your best bet.
Maintenance
All surfaces will require some form of maintenance, but some more than others. Consider how much time and money you would like to invest in maintaining your driveway in the future and weigh this when selecting your surface material.
The Takeaway
Whatever material you land on, hiring a professional to refinish your driveway is the key to your surface lasting and providing you many years of enjoyment. Be sure to review all of your options and personal preferences before selecting your option. Your local professional would be happy to walk you through the pros and cons of each selection to help you make your decision.