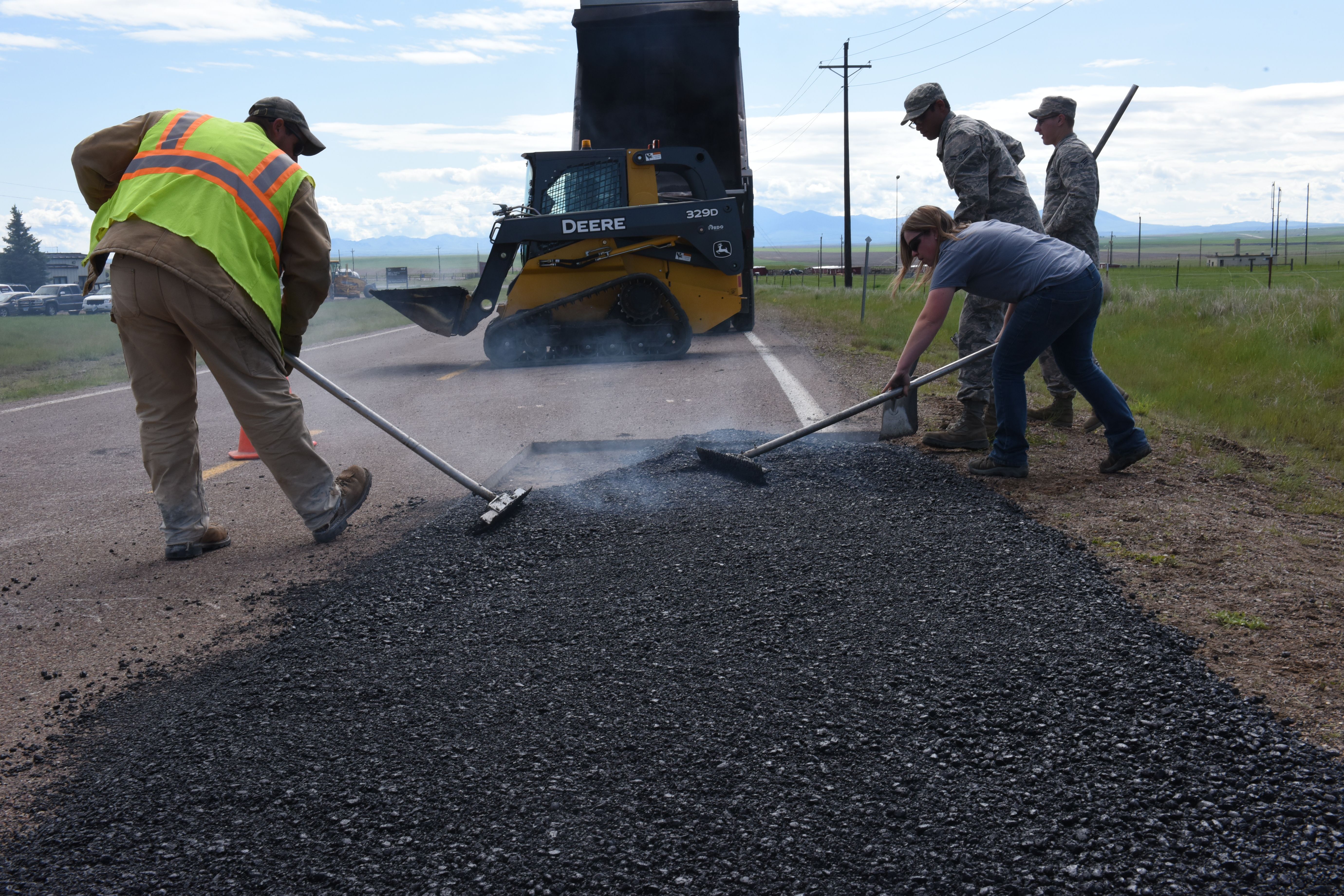 Hot Mix Asphalt Is a Durable and Cost-Effective Solution for a Variety of Concrete Projects
Whether a pothole needs to be filled, or a driveway needs to be paved, hot mix asphalt is a versatile solution for a variety of concrete projects. Hot mix asphalt (HMA) is commonly used to pave roads, highways, and parking lots because it is durable and cost-effective, while also providing a smooth, quiet surface for vehicles.
Due to the hot temperature required for hot mix asphalt, the hot summer weather is the ideal time to pave with this material. If it is too cold out, the asphalt will lose its temperature quickly, resulting in a less efficient finished pavement.
So if you're planning a paving project for this summer, contact your local hot mix asphalt suppliers and read on to learn more about the many benefits to using hot mix asphalt for concrete projects both large and small.
Versatile
Hot mix asphalt can be mixed with various aggregates for a variety of concrete projects. Reliable concrete suppliers will mix the asphalt depending on the project requirements to provide excellent asphalt performance.
Some of the concrete projects that use hot mix asphalt include paving and repairing:
Driveways,
Parking lots,
Roads,
Highways, and
Potholes.
Durable
Since hot mix asphalt is resistant to the elements, it won't deteriorate from too much rain or snow. It also can't be damaged or cracked by ants and weeds, and it is easy to repair if needed. These characteristics make HMA a durable and convenient pavement solution.
Cost-Effective
Hot mix asphalt is mixed off-site by asphalt suppliers. This way, construction companies and homeowners don't have to worry about transporting the asphalt to the project site or mixing it when it arrives.
Professional mixing and transportation help save companies plenty of time and costs for labour, space, storage, and energy use. And since the asphalt is ordered for a specific project size and use, construction companies and homeowners only pay for what they need, reducing additional costs and waste.
Recyclable
Another advantage of using hot mix asphalt for projects is that it is recyclable. Reclaimed asphalt pavement is reprocessed and used for further pavement projects. This recycling reduces material waste that would otherwise end up in landfills.
How Hot Mix Asphalt Is Made
Hot mix asphalt is made from a combination of aggregate and asphalt binder. HMA aggregate includes stone, sand, or gravel. And the binder, known as asphalt cement, is a product of crude oil.
Hot mix asphalt is ordered from concrete suppliers who will heat the asphalt at a very high temperature—usually between 150 and 190 degrees Celsius (or 300 to 350 degrees Fahrenheit) to decrease its viscosity. It is then dried to remove any moisture before it is mixed with aggregates.
For pure asphalt, HMA is mixed at a high temperature between 300˚F and 330˚F, and for asphalt cement, it is generally mixed at a lower temperature of around 200˚F.
HMA Mixes
Hot mix asphalt mixtures can be created from a variety of aggregate combinations to form pavement characteristics suitable for different design and construction project needs.
Here are the different types of hot mix asphalt (with some not being hot at all!).
Hot Mix Asphalt
Hot mix asphalt is one of the most common pavement types and is likely used for pavement projects on roads and highways near you. It is favoured for its weather resistance and ability to repel water.
HMA is heated and poured at a temperature of about 300 to 350 degrees Fahrenheit. To prevent the mix from cooling down too quickly, HMA is best used when temperatures are above 5 degrees Celsius (or 40 degrees Fahrenheit).
Hot mix asphalt mix designs will vary based on the requirements of the job. Here are common pavement project uses for HMA:
Ultra-thin HMA is cost-effective for maintaining streets and roads. This ¾-inch-thin HMA placement is used on structurally sound pavements that show signs of aging, oxidation, and mild surface disintegration.
Perpetual pavement is a multi-layer pavement design process that extends the life of roadways.
Rubblization turns deteriorated concrete roads into bases for HMA pavement. The HMA overlay rehabilitates deteriorated roads quickly and cost-effectively, providing smoother, safer, quieter, and more durable pavements to drive on.
Warm Mix Asphalt
Warm mix asphalt is ideal for use in cooler temperatures because it cools down slower than HMA. It can also be shipped for long distances and used during nighttime construction.
Warm mix asphalt is heated between 200 and 250 degrees Fahrenheit. Since it requires less heat, it uses fewer energy resources, and it is typically less expensive than HMA.
Cold Mix Asphalt
Since cold mix asphalt does not require heat, it is ideal for use in winter months—most notably, for repairing potholes and cracks that are over an inch wide.
While it is the cheapest asphalt option and it comes in handy in the middle of winter, this asphalt will not last as long as hot mix asphalt, so these winter repairs are only temporary fixes. Formal repairs should be completed in the summer months with hot mix asphalt.
Eco-Friendly HMA Options
There are many eco-friendly options when it comes to hot mix asphalt. The most popular eco-friendly solution, as mentioned above, is reusing recycled asphalt pavement in new pavement mixes.
Other recycled materials that can be used in hot mix asphalt include:
Asphalt roofing tiles;
Tires;
Glass; and,
Plastics.
These recycled materials work well as binders in place of crude oil products, such as bitumen, which is a non-renewable resource that creates harmful emissions during the refining process.
Along with reducing harmful emissions and the world's reliance on non-renewable fossil fuels, using recycled materials also helps the environment by keeping these materials out of landfills, oceans, and other natural habitats.
Using and Placing HMA
After the hot mix asphalt is mixed at the plant, it is loaded into trucks and transported to the paving site. Once at the job site, the trucks will dump the HMA into hoppers, which are located in front of the paving machines.
The asphalt is then placed and spread in 4- to 8-inch-thick layers with a paving machine to form an even, uniform surface. Afterward, while still hot, the asphalt is compacted with heavy heated rollers that are driven over the asphalt to create a smooth consolidated pavement.
The lower layers of pavement are designed to support the upper layers and are typically made of aggregate that will help prevent failure, deformation, and distortion (rutting) under the load of traffic. The upper layers are designed for friction and durability.
Since hot mix asphalt must maintain a warm temperature throughout the pavement process, it is recommended that you complete your HMA paving projects during the warm summer months. You should also consider ordering your HMA from local hot mix asphalt suppliers.
A local supplier's proximity to your pavement site and their specialized HMA equipment will help keep your HMA at the desired heated paving temperature so you can complete your pavement project efficiently and accurately.
With summer close by, now is the time to plan for pavement projects using hot mix asphalt. This convenient, durable, and cost-effective material can be used for a variety of projects, both large and small, and can be ordered to suit various performance needs without wasting materials.
Whether you need to patch potholes or rehabilitate an entire stretch of road, hot mix asphalt is a durable solution. To start planning your upcoming pavement project, contact your local hot mix asphalt suppliers and start paving the way for safer and smoother roads.